---

Para ver esta página en español, pulse aquí
Click içi pour voir cette page en français

This is the 'Indalo', a prehistoric cave-painting found in the province of Almería, Spain and adopted as its good-luck symbol.
My name is Françoise Melville and I was born in Paris, France. However, I spent most of my adult life in Spain where I studied sculpture for a year at the Escuela de Bellas Artes in Madrid before moving south to Andalucía. In the province of Almería I learned the potter's craft, having being inspired and encouraged by the local folk potters of the village of Níjar. In 1989 I relocated to British Columbia, Canada, and now work as an independent studio potter in the garage adjoining our home. In my 'spare time', I write novellas and short stories. For many years I made strictly functional pots, but I sometimes work on ceramic sculpture, more for relaxation than with an eye to selling it. Most of these human figures now adorn our backyard, some surrounding my kilnshed like kilngods. In summer I enjoy making small perforated porcelain bowls which I fire in a home-made raku kiln.Click here for more about my Raku kiln These are almost non-functional pieces - being full of holes - but very decorative.
Our house in Port Edward, B.C. on a December morning
Here are some samples of my recent work: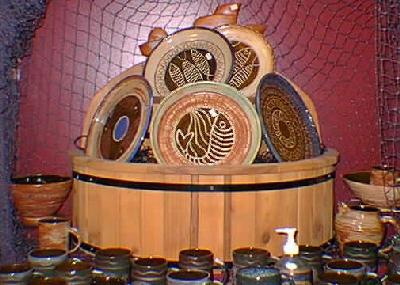 Some of my plates and pots on sale at the Rain Store, Prince Rupert B.C.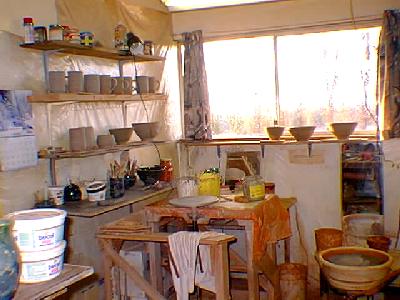 Not much room to move, but this is where I work
Glazed stoneware vase, 9 inches high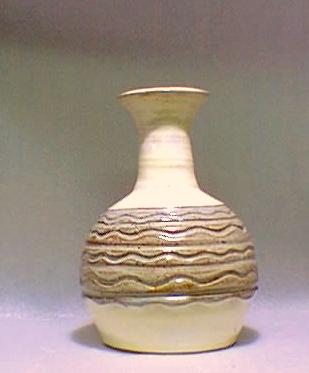 Glazed stoneware vase, 9½" high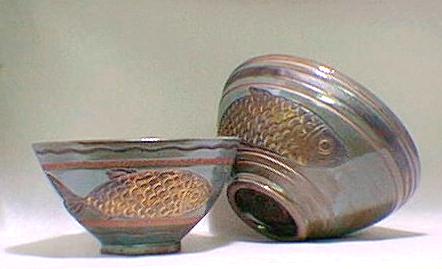 Stoneware bowls with gold metallic glazed fish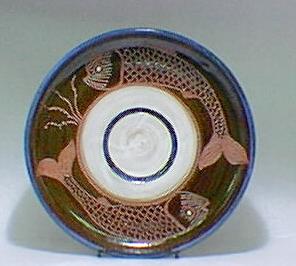 Stoneware plate, 11" diameter with sgraffito fish design
The following are some examples of my written work:
---
THE END OF AN ERA, an illustrated article about folk potters in Southern Spain first published in Ceramics Monthly, January 1998
---
CASTLES IN SPAIN, full unedited version of an illustrated article first published in Ceramics Monthly, June 1999
---
ANGELITA LA TONTA, a comedy set in Southern Spain
---
BLIND DAWN, a short story set in Southern Spain
---
THE CHESS GAME, a short story set in St. Ives, Cornwall, UK in the 1950s
---
IN SEARCH OF A KEY or WHY POTTERS SHOULD THROW URNS, a true story from Spain
---
MAKING HISTORY, an illustrated article about reproducing prehistoric pottery on the excavation site
---
HOW TO MAKE HOLEY BOWLS, illustrated instructions for making perforated porcelain raku bowls
---
PICTURES OF MOSTLY FUNCTIONAL POTS
---
"LIFECYCLE" a Quicktime movie made using clay (size 220kb)
(You must have Quicktime 3 or better to view this movie)
"CLAYWOMAN" another clay movie (size 479kb) which can be viewed with either Quicktime or Windows Media Player 6
---

For comments or enquiries, you may email me at: fmelvill@rapidnet.net
Links to some other sites:
Willow Tree Pottery, Manitoba, Canada
Michelle Lowe in the Arizona desert
The Wiltjer Pottery, Maine, USA
Shaffer Pottery in West Virginia,USA
Visit the potting village of Buño in Galicia,Spain
Anne McFadden in Ontario, Canada
Clayzee.com - An excellent database for potters everywhere
A wonderful selection of regional and national flags for your homepage
See what the weather is like here in Prince Rupert or almost anywhere else in the world.
Background music "Recuerdos de la Alhambra" by Francisco Tárrega, arranged for midi by Carlos do Rosario Tchiang