Capricho Arabe (optional guitar music)
INDALO POTTERY, PORT EDWARD B.C. CANADA
has closed down permanently in Canada
ALFARERÍA EL FENIX
will soon arise from its ashes
in Almería, España

Para ver esta página en español, pulse aquí
Click içi pour voir cette page en français
This is the 'Indalo', a prehistoric cave-painting found in the province of Almería, Spain and adopted as its good-luck symbol.
My name is Françoise Chapman Baudelot and I was born in Paris, France. However, I spent most of my adult life in Spain where I studied sculpture for a year at the Escuela de Bellas Artes in Madrid before moving south to Andalucía. In the province of Almería I learned the potter's craft, having being inspired and encouraged by the local folk potters of the village of Níjar. In 1989 I relocated to British Columbia, Canada, and worked as an independent studio potter in the garage adjoining our home. In my 'spare time', I wrote novellas and short stories. I mostly made strictly functional pots, but I sometimes worked on ceramic sculpture, more for relaxation than with an eye to selling it. Most of these human figures still adorn the backyard, some surrounding my kilnshed like kilngods. In summer I enjoyed making small perforated porcelain bowls which I fired in a home-made raku kiln which I have now sold along with most of my other equipment. Click here for more about my Raku kiln These are almost non-functional pieces - being full of holes - but very decorative.
Here are some samples of my Canadian work: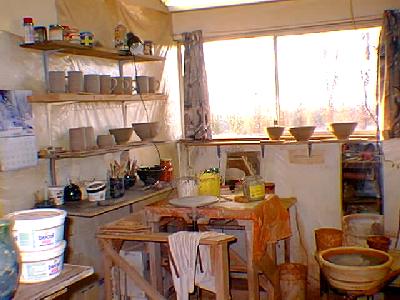 Not much room to move, but this is where I worked for several years.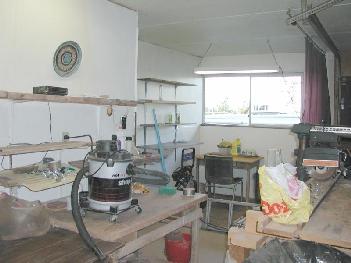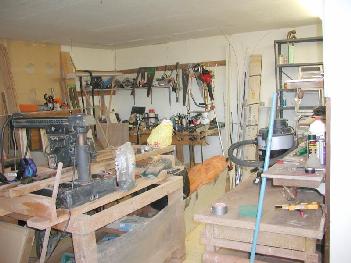 And this is what it looks like now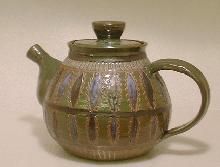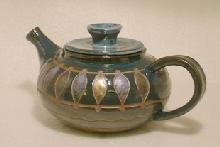 Teapots with green, bronze and purple glazes - 6 & 4 cups

Teaset with bronze glaze and sgraffito maple leaf design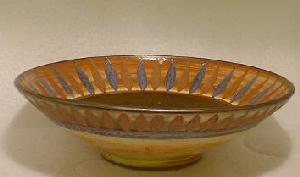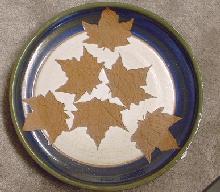 12½" shallow bowl & 12½" platter with carved maple leaf design


For comments or enquiries, you may email me at: francoise_chapman@yahoo.com
Links to some other sites:
Willow Tree Pottery, Manitoba, Canada
The Wiltjer Pottery, Maine, USA
Visit the potting village of Buño in Galicia,Spain
Michelle Lowe in the Arizona desert
Pinehill Pottery in West Virginia
Clayzee.com - An excellent database for potters everywhere
A wonderful selection of regional and national flags for your homepage
Background music "Capricho Arabe" by Francisco Tárrega, arranged for midi by Carlos do Rosario Tchiang