CERÁMICA FENIX
formerly Indalo Pottery, Port Edward, B.C. Canada

Almería, España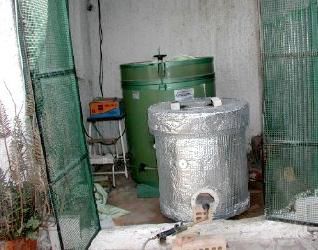 Here is my tiny home-made fibre-lined kiln (3" of top quality fibre). This kiln is powered by one plumber's torch running on domestic butane gas. The kiln is very small, 18" X 20", but it certainly works a lot better than the discarded Emison diesel kiln in the background.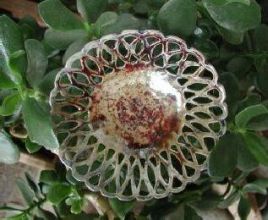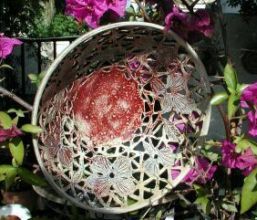 Rakued incised bowls thrown with fine white stoneware clay
CLAY CASTLES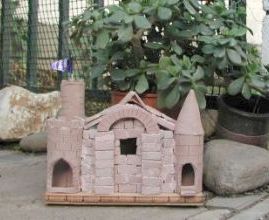 As a Christmas present for my grandson, who has far too many expensive toys, I made about 200 clay bricks plus a few towers, sheets of roofing, beams, arches and steps. Not having an extruder which would make things much simpler, the bricks were cut from slabs made with a large rolling pin, and they are not 100% uniform. However, this does make the buildings look very ancient. The bricks are held together using non-toxic temporary cement (flower and water paste) which can be tinted if desired. My grandson has just turned six and has plenty of Lego, but maybe he will enjoy being more of a 'real' builder.
Almería, December 2003
email: francoise@ya.com
---